From Kolkata to Mumbai
Jamshedpur
Today I leave Kolkata, and start my way to Mumbai.
I got my last breakfast in the Blue Sky Cafe in Park Street H.O., Kolkata
(3, Sudder st. Phone: 033-22522958) , which was my preferred restaurant where I was used to eat there.
Then, took my luggage from the hotel where I stayed last month.
I had to get to Howrah Railway station.
I was there several times during last month, to be sure I will know how to cope this travel from Kolkata to Mumbai, how to get there and how to get the train.
I tried to get there by bus, and I succeeded, but I realized that no way to do it with all my luggage on my shoulders.
I did it once , using the fairy, which cost only 3 rupees , but it takes a walk which I did without carrying anything.
So as I appeared in the street, a taxi was there and I asked the driver how much it cost to get to the train station. He told me 200 rupees. It was really exaggeration.
So I continued to go, until one taxi driver offered me a price of 80 rupees, which is considered to be a fair price.
I was registered to the train 2860 which arrives to Howrah station on 14:00 and is supposed to arrive to Jamshedpur on 17:28
This was my second time that I go by train in India. The first time was the train from Varanasi to Kolkata , which was 14 hours , and it was a very bad experience for me.
This time it was a short way, only 3 and a half hours, and I hoped to enjoy it better.
On the way, being in the train, I tried to find someone who can tell me when to get off the train, when we get to Jamshedpur.
I was lucky to meet a young man who told me he is a student in the College: National Institute Of Technology,
Jamshedpur
His name is: Abhishek Sengupta and he studied Electrical Engineering
So we became friends. He told me things about the life in India, and I told him about Israel.
When we arrived to Jamshedpur , we took a rickshaw to the NIT campus at Adityapur, which is about 12 kms away from Jamshedpur railway station, so I had the opportunity to know a little about the city, and it's main quarters , so that the next day I could walk by myself in the city. It was already dark , so I said I will visit there , tomorrow, and meanwhile , he gave instructions to the rickshaw driver to take me to an hotel.
The driver took me to Fortune Center Point Hotel Jamshedpur, Inner Circle Rd .
This is a luxurious and a modern property, offering all the facilities required for a comfortable holiday. Being the most premium business hotel in Jamshedpur, the Fortune Hotel is set in the heart of the city and is just 6 kilometers from the railway station. I asked how much will cost me a single room for a night, and the nice ladies who were working in the reception, told me that the prices start at 3,800 rupees.
I told them that it is far away from my budget, so they were kind to suggest me to go about 500 meters from there, and to ask at The Boulevard Hotel , Bistupur, Jamshedpur,
Phone:657-2425321
I really found there a room for 700 rupees for a night. I stayed in this hotel two nights,
since I had to continue to Raipur on January 6, 2009 with the train 2810 , which leaves the station in Jamshedpur at 23:50 and is planed to arrive to Raipur at 09:00.
Which means , going in a sleeper wagon about 9 hours ride.
The city of Jamshedpur is called also Tatanagar , since a big part of the city is the Tata factory
Here you can see it in the map: (The orange area, Tata Steel Works)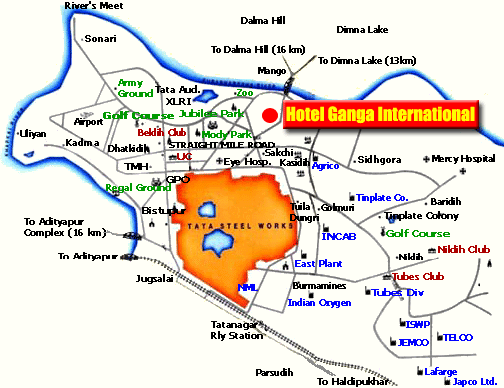 You can see a better map with more details in the link:
http://maps.google.com/?ie=UTF8&ll=22.775746,86.147919&spn=0.017885,0.027637&z=15
I didn't have this map when I arrived to Jamshedpur, so I didn't know exactly where I am.
In the morning of January 5, 2009 I decided to walk and see the city of Jamshedpur (Population : 1.1 Million )
Also known as the 'SteelCity' of India, Jamshedpur is situated in the state of Jharkhand. It was founded by the Late Jamshedji Nusserwanji Tata and was named Jamshedpur in 1919. As a tribute to its founder, it is also called as Tatanagar.
As I mentioned before, I didn't know exactly where to go, so I saw a family riding on a motor bike , so I went to same direction.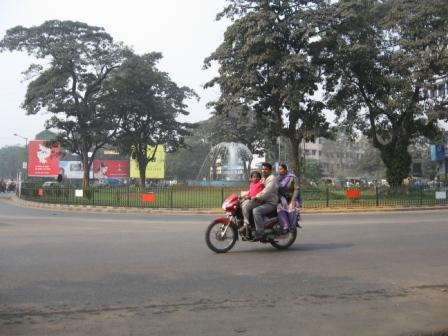 I continued to walk until I arrived to a sign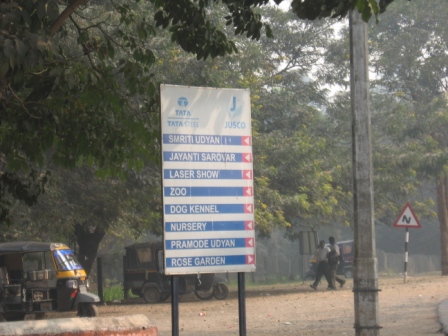 I saw on the sign that all the arrows show to the left except one arrow, to the rose garden, that shows to the right. So I decided to go left, and to see the zoo and Smriti Udyan
On the way , I saw the Tata Steel Works, but I couldn't get in, since there is a big wall all around it, and you get through the gates only if you have a permit.
I even didn't take a photo of the place, because there were so many guards in the area and I didn't know if they are soldiers or policemen or private guards, but anyway I didn't want to deal with them, so I continued to walk, aiming to the Jubilee Park, which is situated in the heart of the city. Tata Steel presented this park to the citizens of Jamshedpur in its Golden Jubilee Year in 1958. Other people say that this park was a gift by Tata Steel to the citizens of Jamshedpur on the completion of its 50 years. It was inaugurated by Pandit Jawaharlal Nehru, the first Prime Minister of India in 1956.
The three coloured fountains at the center of the park attracts various visitors in the evening and illuminated on every Tuesday and Saturday.
When I was there it was a foggy day and I was not so impressed by the view of the fountains.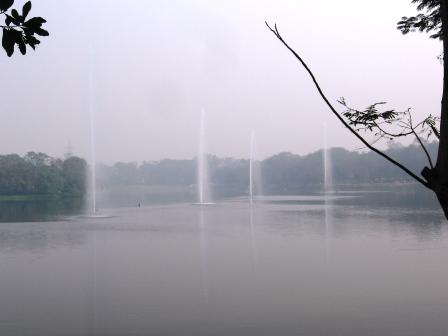 Foliage Park, Smriti Udyan, Jayanti Sarovar, Rose Garden and TataSteel Zoological Park are some other notable sections of the park. Every year on 3rd March the entire park is lit up with lights and the fountains are specially illuminated to commemorate the birth anniversary of Mr. Jamshedji Nusserwanji Tata, founder of the Tata Empire. Tourists from all over the world come to have a glimpse of the park on this notable day.
Unfortunately I arrived on Monday , January 5, in day light , so I missed all this.
I was at the gate of Smriti Udyan , but it was closed.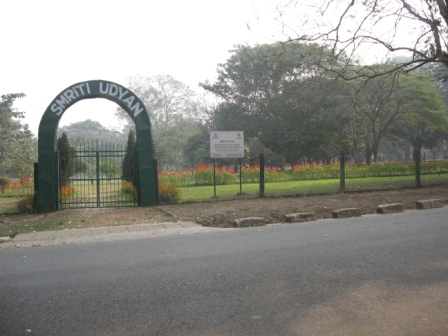 Another major attraction at the Jubilee Park is the Laser Show, a performance of lights and musical fountains. The first of its kind in the country, the show is an educational, entertaining and a truly unique spectacle and it was implemented to welcome the millennium. But
same hapened to me with the Laser Show. It really was not my lucky day.It was Monday,
and the Laser Show was closed.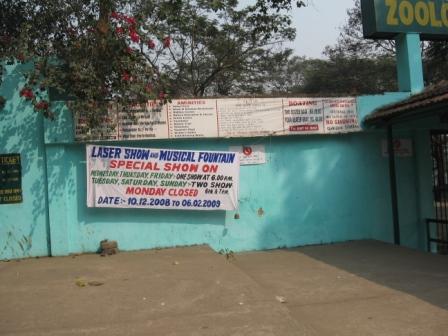 I didn't give up, and tryed the Zoological Park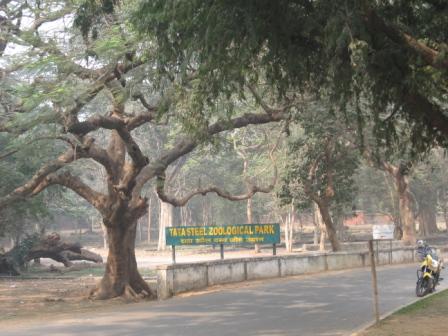 I continued to walk until I arrived back to the entrance to the Jubilee Park , there I found a rikshaw driver who took me to the hotel where I stayed.